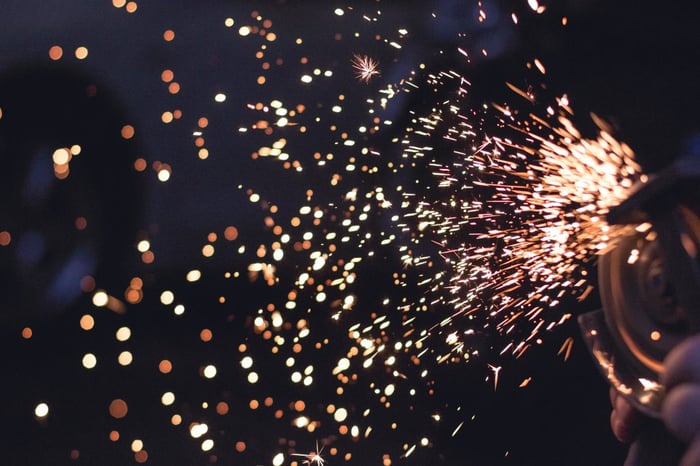 Increase B2B Sales With Inbound Marketing
What's it all about?
As you are doing business and have seen quite a few successful years till now, we can assume that you know your unique selling points, strengths and how beneficial your products are for your potential and current customers.

The real importance is that you reach out to your potential customers and present your business to them in an advisory capacity. Show them your strengths and value of your products to prove that you are the best brand in the industry for your customer! How? Through effective product marketing using an inbound methodology.
While many manufacturing companies are attempting inbound as a method for b2b lead generation, success remains elusive to most for them because of a lack of an effective overall b2b strategy.
If you are creating a revised or new B2B marketing strategies, the first question should be: Where are your potential customers? How are they interacting with the web to gain knowledge about their desired products? And how are they finally making their decisions?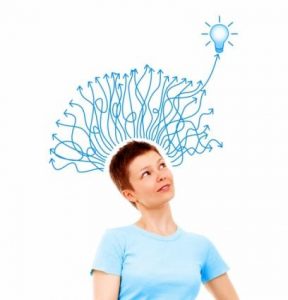 If you are looking for B2B marketing ideas, we will try to shed some light on the most important elements of inbound marketing for manufacturers and engineers and help you put together a product marketing strategy. These insights will be applicable to almost all the sub sectors of the manufacturing industry. We will focus on real time data to bring you the most effective tactics that are proven to convert visitors to lead and the leads to customers.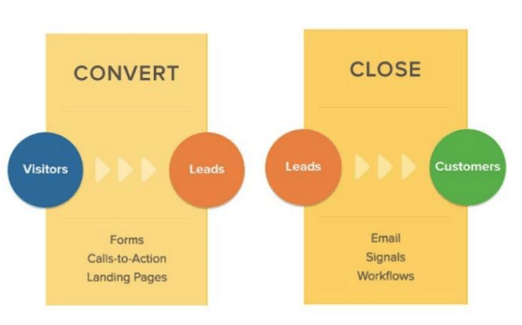 To address this and to help you create a successful inbound marketing campaign for manufactures and engineers we will be covering:
The core tactics used to leverage the best possible outcome from your inbound marketing efforts.

How to sketch the whole process of a successful customer-centric internet marketing sales funnel

How to run an inbound marketing campaign along with the ever changing trends in the internet marketing that are clear by following the latest the manufacturing news

Research The Latest Manufacturing News To Improve Inbound Success
Research Is the Key – That Opens the Lock of Inbound Success!
By researching all the facets of your industry and your target audience before building your product marketing strategy along with having a clear understanding of your own brand and products that you are attempting to promote. Inbound marketing industry best practices should be used to build a successful and fully effective inbound marketing strategy and likewise running a successful inbound marketing campaign for manufacturers requires proper knowledge and expertise on a broad range of digital marketing tactics, tools and practices. Manufacturing marketing can benefit from the knowledge and experience of other B2B advertising campaigns run by larger corporations.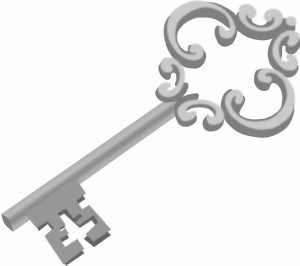 A comprehensive marketing department's toolkit would hope to deploy some or all of the following inbound marketing tools and strategies:
B2B Content Marketing

Search Engine Optimisation

Social Media Marketing

Email Marketing

Mobile Marketing

Video Marketing

Webinars

Websites
What to Research ...
Knowing enough about your products and services is not enough, you also need to know enough about your target audience and how you should reach and educate them through effective use of the latest technical marketing platforms. This is something that a b2b Inbound marketing agency can help you with if you are not fully experienced in all of the intricacies of technical marketing to do it yourself.

Are You Selling Product-Based or Solution-Based?
If you are looking for a b2b lead generation solution then you could hire an inbound marketing agency that has the expertise and resources in building and running inbound marketing campaigns in the Manufacturing industry. Having an overall understanding of the manufacturing inbound marketing methodologies yourself would be better in the long run as a sustainable way to generate b2b leads.
Here are some of the specific details that you have to collect about your target audience before planning out your strategy are:
Which social channels they are using

The type of content they assess on the internet before taking the decision of buying the products that you sell

How they interact with internet
Being at Peace with the Pace
The virtual but very real and dynamic world of b to b marketing for manufacturers is evolving rapidly over time and newer trends are rapidly taking over older practices. This occurs because the habits of your potential customers are also changing faster than any time before.Therefore you constantly have to be top of your marketing game using effective data analysis and measurements.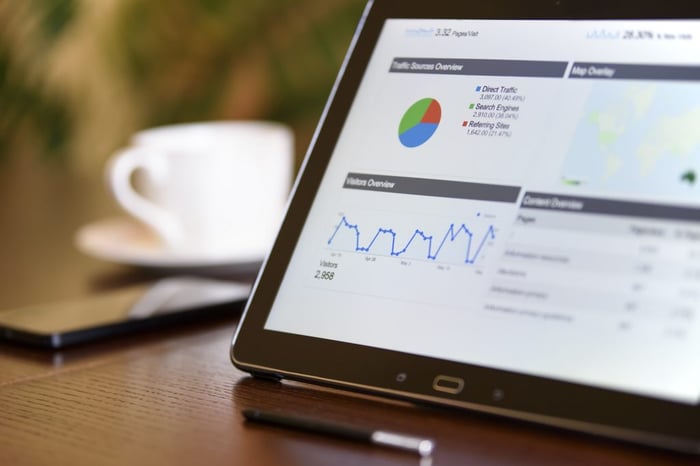 What Is Business To Business Marketing? Lets' Look At The Data



Fathom's research of this year's manufacturing marketing trends, best practices and changes has provided us with some very valuable metrics from which we can effectively take the temperature of present day behaviour of the audience that the manufacturing industry mostly targets. Through these, we will then be able to get a good idea of how to structure our own strategies and best practices that we will implement through our b2b marketing plan.
From the above chart, we can clearly see the preferences in the content type that most marketers prefer to target their potential customers. We can see that the industry has chosen video as their primary content type to spread their message. Shortly after video follows other content types like e-newsletters, blogs, photos and others.
Comparison With Other B2B Content Marketing Tactics
So, from this information you can get a good idea about the content types which you should use for your manufacturing inbound marketing success.
From the next chart we gain insight into what many inbound marketers miss. This is to appreciate the real-world mix of inbound with the traditional marketing tools and strategies such as trade shows and other outbound marketing events. As shown with the infographic, this year the most effective content marketing tactic for manufacturers was in-person events, or business networking.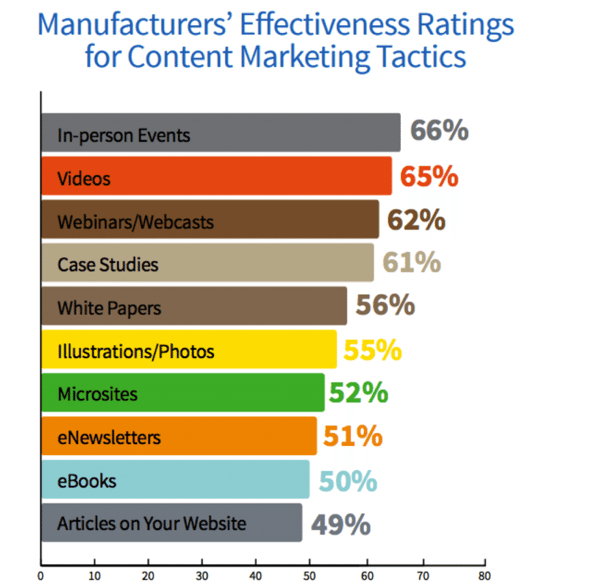 So, we must create b2b marketing campaigns that will work alongside other effective traditional tactics.

Harnessing the Power of Social Media
Social Media Usage
Now let's try to find out where our potential customers are hanging around over the social media channels.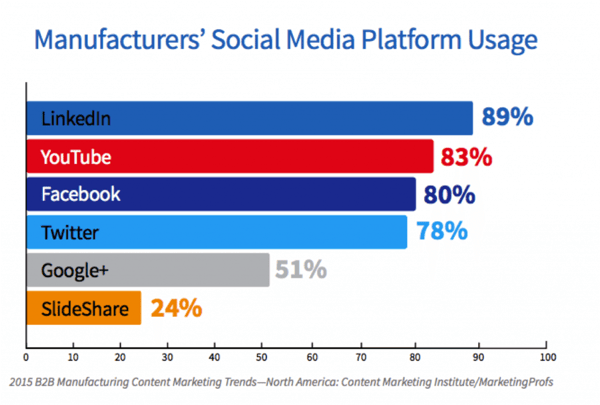 Social media marketing b2b
The chart shows that LinkedIn is the most used social media channel for manufacturing marketers. YouTube, Facebook and Twitter also almost have the same amount of popularity among the marketers but Google+ not so much.
Now let us have a look at the effectiveness chart to find out which one has been the most effective social media channel for bringing about the marketing successes for the manufacturers this year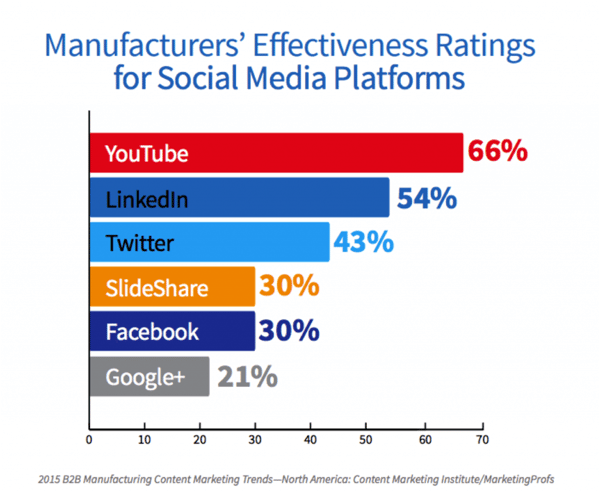 From this we can see that although LinkedIn was the most used social media the effectiveness of LinkedIn fell behind YouTube - the most effective social media channel for manufacturing marketing success this year. And in the case of Facebook, what we can see is that, although it was one of the most used channels, the effectiveness was not quite significant in terms of driving ROI.
Are Paid Adverts Effective for B2B Technology Marketing?
Paid Advertisements To Drive B2B Sales Leads

Lets delve deeper into the issue of how our manufacturing and engineering industry targeted customers are behaving in terms of interacting with paid adverts offline and online.
We can see here that almost all (85%) of the manufacturing marketers are trying to utilise print or other offline promotional tools. And a significant 69% percent are using online banner ads as their preferred channel for publishing paid adverts. Search engine marketing is also another such popular tactic along with some of the lesser popular ones like adverts promoted on social media like LinkedIn and Twitter. An interesting factor to note here is that our manufacturing marketers are not focusing on Facebook promotional tools when it comes to targeting their audience with paid adverts.
Now, If we look at the effectiveness chart of the paid advertising tactics for the manufacturing marketers then we can see that the most effective tool is Search Engine Marketing. With 52% marketers saying that it has proven to be very effective for their campaign. On the other hand, the most used tactic of employing print or other offline promotion was found to be not so effective as only 34% of them said that it was effective in driving quality ROI.
Research for Manufacturers Is a Continuous Process
From the above research and analysis we have certainly found out the b2b online behaviour of our target audience and we can define our most effective tools and tactics for designing and conducting the best b2b marketing campaigns.
However, what we can see here is the speed of changing dynamics in the field of manufacturers marketing practices within the manufacturing industry. So, we can safely say that our research will not be a simple one time activity. Instead, it will be an ongoing process which is up-to-date with the ever changing audience behaviour, trends and best practices. The b2b sales process is constantly changing and b2b marketing channels need to be reviewed regularly.

Manufacturing Marketing Goals and Inbound
When it comes to inbound marketing strategy, development and operations, they certainly have to be aligned with your end goals in mind. Whatever you're expecting from your b2b content marketing strategy your whole processes and activities will have to be developed in accordance with your goal.
We can see here that achieving sales goals is one of the top priorities with the inbound marketing campaigns for our manufacturing marketers this year. Whereas this goal of driving sales with inbound marketing was not so much in practice even in last year when only 56% of marketers said that they had sales as a goal for their content marketing campaigns.
In this way a well-researched and well thought out inbound marketing plan can be immensely helpful for any type of business whether it be a service or a manufactured product. At whatever stage the business is at or whatever be its prime goals of the moment inbound marketing practices can be driven to bring about the desired effects of the moment and push the progress forward with considerable speed.
So, the next focus would be to develop the best inbound marketing strategy that would be the perfect fit to your organisational goals be it driving sales or to establish authority within the industry - or both!
The Inbound Marketing Methodology for Manufacturers
Till this point you must have got that in order to develop and run an effective and successful content marketing campaign having a solid understanding of the inbound marketing methodology is a must. Let us examine how the inbound marketing methodology and best practices would look like for our manufacturing marketers and engineers.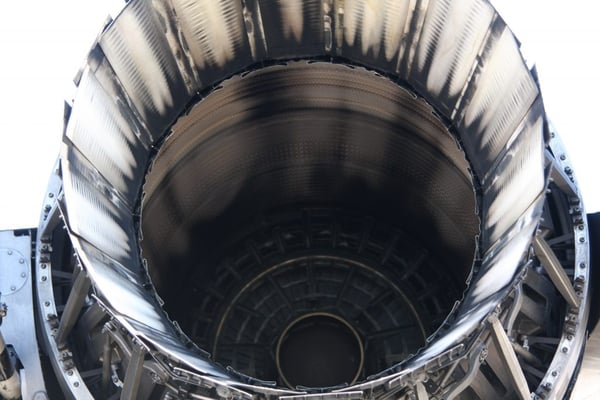 Effective Content Creation
Content is the lifeblood of any inbound marketing campaign. This is exactly why it is called content marketing. You have to develop content whilst keeping both the buyer's persona and the buyer's journey in mind. In content marketing, the buyer's journey has been divided in three stages. The stages are:

In the awareness stage, the customer is only slightly aware of his or her problem or need and doesn't know anything about the probable solutions to their problem. So, here the task of effective content creation and marketing would be to create content purposed at finding out and expanding the problem and pointing towards the probable solutions.
Effective Content Creation
To exemplify the situation let us have an imaginary business scenario in the world of construction marketing:
Step One: Suppose a B2B business engaged in supplying construction equipment and materials to various property builders are receiving constant complaints about their supplied products and equipment and are currently at a loss about what's going wrong. So, an effective content marketing campaign for any construction equipment manufacturer would take this golden opportunity to attract this business by explaining to him clearly what may be going wrong with his chosen manufactured products in order to gain his trust and eventually to guide him to effective solutions.
Step Two: From this point onward, a self-sustaining and well-built campaign would guide this potential customer through the consideration stage by providing him with other necessary details on various similar products and companies. This is achieved by giving him impartial and unbiased reviews of the desired products and equipment from various manufacturers.
Step Three: After that, when the prospect is ready to make a decision, an effective inbound marketer would hit him with some promotions and offers about their own products and equipment.
Step Four: However, once the prospect becomes a customer the marketer's task is not yet over. Even after that they have to continue providing support to their customers with helpful, useful and informative content in order to keep them engaged and delighted with their support. In this case effective content types could be some informative b2b marketing blog on the best usage of their products or a video explaining safety or best practices etc.
The Core Inbound Marketing Methodology
In this manner the campaign also fulfils the core inbound marketing methodology that is to: attract- convert-close-delight.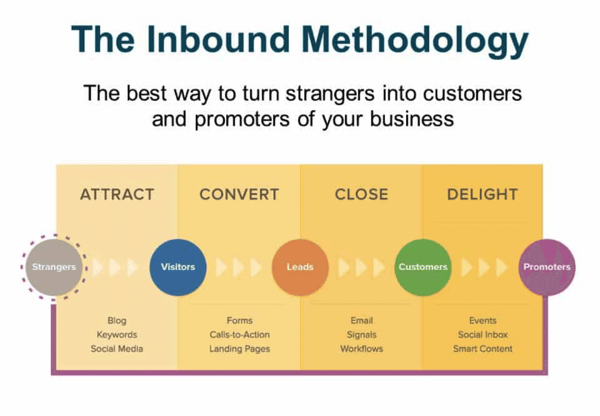 Driving Traffic Through B2B SEO and Social Media
Let me ask the most intriguing question of them all. How will you find or get noticed by your potential clients? The answer is through effective SEO- Search Engine Optimisation and social media integration.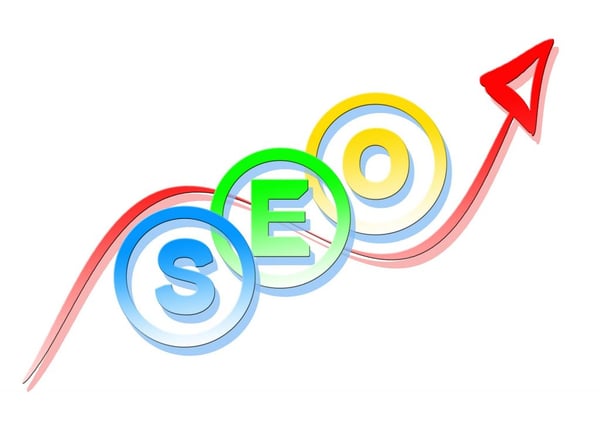 Whenever you are writing content for your inbound marketing campaign or hire a b2b SEO agency, you have to use Keywords that your target audience understand and those which they are searching all over the web for. Professional manufacturing marketing agencies can help you with this.

Now, suppose in the case of a B2B construction equipment supplier faced with this problem. How would they formulate their problem and search for it on Google or Bing? This is exactly what you have to find out and base your content around in order to be found by the person.
To find out the keywords you will have to use tools such as: MozPro, Google Keywords Planner, SEMrush etc. and then follow all the other rules of on-page SEO and off-page SEO. However all professional b2b marketing agencies will support you with all the quality tools and tactics for effective SEO. If you know a strong competitor in your market, it is also good practice to look at they have done to get good b2b marketing examples.
Apart from having your very own social media channels for sharing all of your content and engaging prospects, you should also have a pro-active social media strategy for reaching out to various groups where your potential customers are voicing their problems and searching for the products that you have to offer. This is vital in creating effective multiple b2b campaigns as part of an overall business to business marketing strategy.

Share informative content such as a b2b blog, ebooks and other marketing materials on your products and the problems that your products are capable of solving. Also publish marketing videos on YouTube which showcase your strengths and aim to distribute them on all other platforms.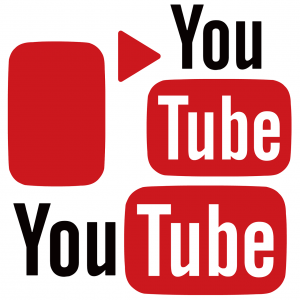 Use E-mail Opt-ins for B2B Promotion



Using email opt-ins for various offers like new updates from you, periodical newsletters etc. is a very good idea in order to generate SQL and MQL. You can also implement a quick sign up on your website and landing pages for visitors before they avail any of your educative content.
From these sign ups, email opt-in agreements and according to the contents they have browsed you have to sort out at what stage of the buyer's journey the lead is currently at. Qualify and segment the leads accordingly to send them targeted emails to drive more conversion at each and every level of the sales cycle.
Paid Adverts
In most of the cases running Search Engine Marketing campaigns would be the most effective for manufacturers. Through this your produced content will easily reach a large number of audiences who are genuinely searching for your product or related issues. However, trying some ads in Google Display network and other social media promotions also can prove to be quite handy.
SMarketing
Smarketing is a word coined by combining sales and marketing as it embodies the practice of effective collaboration and co-operation between the sales and marketing teams within the company.

An ingenious tactic of inbound marketing proven to be effective in driving measured ROI from the inbound marketing campaigns run by manufacturing marketers
Often it is seen that sales teams and the marketing teams have an inner conflict going on within them which is in no way beneficial to the company's overall sales funnel and growth. To deal with this issue Smarketing aims to bring these two teams on the same page using inbound practices like: having same or interdependent goals, having a clear visibility into each other's actions, tying of marketing pipelines with the sales quotas, having incentives for both the teams based on the same goals, and some other tactics.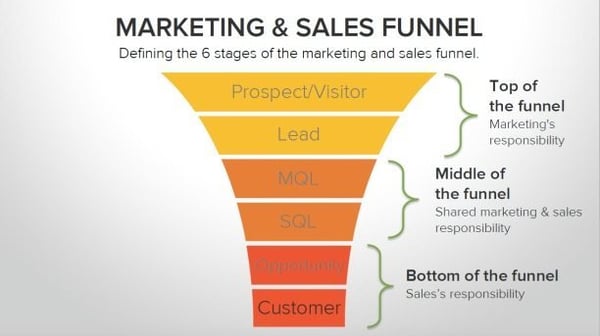 Effective Mix of Inbound and Outbound Lead Generation For B2B

It has been often seen that the recent inbound marketers and promoters often devalue the outbound and traditional tactics that are still very relevant for businesses of today. Yes, it is undeniable that the marketing landscape has undergone massive changes and taken a sharp turn towards inbound from that of traditional outbound processes but we cannot yet completely rule out the efficacy of PR, events, trade shows and other traditional advertising methods altogether. Especially for manufacturing manufacturers having a proper alignment between the inbound and outbound tactics is very important.
Therefore, the goal should be to develop such a marketing model that will utilise the effective mix of inbound and outbound in such a way that both will complement each other being consistent with the brand image and the organisational goals. There is no doubt that without having a beautiful and buyer centric website, engaging and useful content marketing, robust social media presence and other inbound tactics business success in today's world is not simply possible but even then ignoring the importance of trade shows, PR events, advertising and other events used in traditional outbound marketing should not be underestimated in order to achieve organisational goals.
So, the effective mix will strengthen both and will seamlessly move in and out of each other. Your inbound should complement, promote and help the outbound; and in turn your outbound should also utilise, promote and help inbound.
Final Words For Top B2B Companies



So, if you want to reap the immense benefits of an effective b2b sales strategy using b2b marketing automation for your industrial manufacturing business now you know what you have to do.
Build engaging, useful and updated b2b content, have a proper SEO and Social Media Strategy, integrated with landing pages and email funnels, Become a SMarketer and utilise the benefits of having the superb mix of inbound and outbound. Develop an omni-channel omnipresence. Keep constantly engaged in finding out what's new and what's changing. Be dynamic and always ready to adjust to the ever changing b2b marketing trends.
This way, if you manage all these strategies through the best possible use of all the industry leading tools and tactics then nothing can stop you from reaching your organizational goals as a manufacturer or engineer. Don't be afraid to lean from the best b2b marketing companies to find out what is working now.